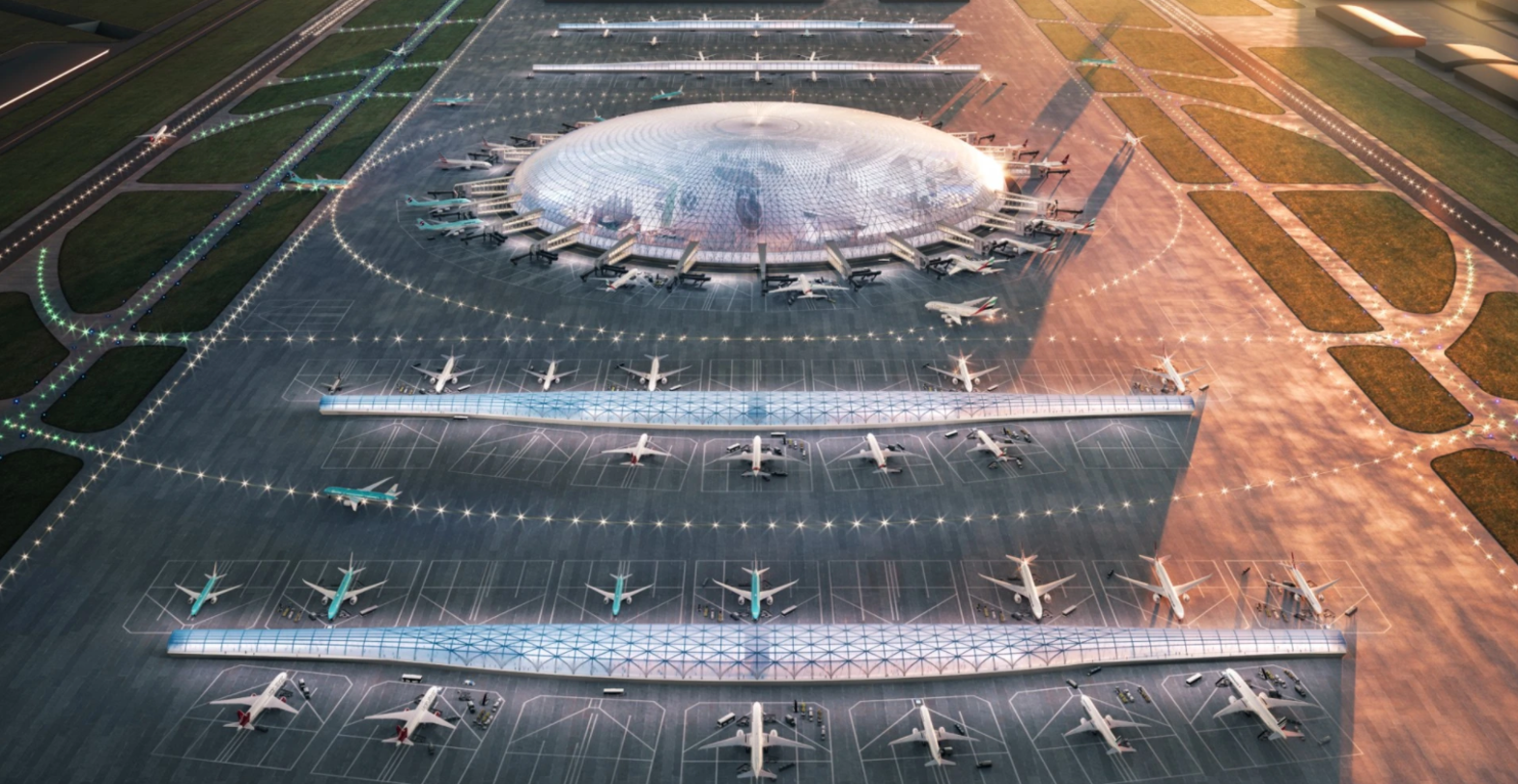 State auditor concerned about government mega-airport plans
Poland's state auditor has expressed concern that plans for a new mega-airport – the government's biggest investment project – lack a full business justification, were prepared according to a "unreliable planning" and seek to meet "impossible deadlines".
The report, published last week by the Supreme Audit Office (NIK), finds that a number of tasks have already exceeded up to two and a half years and that there is a high probability that the construction will not be not completed by the current deadline of 2027.
The entity overseeing the project, however, argues that the issues identified are not unusual for such an investment and claims that NIK's overall report is positive. He also denies that the target date of 2027 is in danger.
Budowa CPK już na starcie ma opóźnienie. Nie wiadomo też ile dokładnie będzie kosztować, ani skąd będą pochodzić pieniądze. Według NIK należy przeprowadzić analizy kosztów i korzyści płynących z tego projektu, zarówno tych ekonomicznych, jak i społecznych: https://t.co/OcOPLxi8TP pic.twitter.com/bVBffUqiay

— Najwyższa Izba Kontroli (NIK) (@NIKgovPL) January 13, 2022
The Solidarity Transport Hub (CPK), located between Warsaw and Łódź, will include new rail and road connections, as well as the planned airport. The government aims for it to become a major regional air hub.
NIK, however, called for an immediate cost-benefit analysis of the business, especially given the collapse in passenger air traffic during the pandemic.
Before the pandemic, the government envisioned the airport initially serving 45 million passengers a year, which would have put it on a similar level to London Gatwick. The goal was then to expand that figure to 100 million a year, which by pre-pandemic figures would have made it the second-busiest airport in the world alongside Beijing and behind only Atlanta.
However, managers and officials admitted last year that the pandemic had necessitated a "completely different" business model than previously envisioned, with a greater emphasis on air cargo.
Poland's mega-airport will have a 'completely different' business model than planned, executive says
In its new report, NIK found that for the airport to be profitable, it would need to serve 24.3 million passengers per year by 2030 and cost no more than 46 billion zlotys (10.1 billion euros). CPK currently estimates the total costs at 34.9 billion zlotys (7.7 billion euros).
However, NIK notes that an official document containing the implementation schedules and budgets for the different parts of the project has not yet been adopted. "As a result, there is no complete material and financial schedule for CPK," the auditors write.
They also note that although funding for the preparatory work (9.23 billion zlotys until 2023) has been secured, it is still unclear where the remaining funding will come from for later stages of the venture.
Accordingly, NIK has signaled that failure to provide funding for later stages of investment is a serious risk. He also expressed concern that current staffing plans could lead to an "unwarranted increase in costs resulting from the duplication of certain tasks and excessive employment".
Ryanair accuses Poland of 'wasting billions' on a 'dumb' mega-airport
NIK also criticized the CPK for its "unreliable planning" and setting "impossible deadlines". Due to the issues identified, there is a "high probability" that construction will not be completed by the set deadline of 2027, the auditors concluded.
In response to NIK's report, CPK argued that the issues identified by the auditors "occur in the implementation of every investment" and said it was taking "appropriate steps" to minimize those risks. The company said a multi-stage funding approach was the method it chose to organize the budget.
She also argued that NIK's report was "positive" overall, pointing out that the most frequently repeated phrase was "that no irregularities were found in the activities of the inspected entity" and that no mismanagement has therefore not been identified.
Addressing parliament last week, the government's plenipotentiary for the CPK project, Marcin Horała, said spending had been "rational and appropriate to the stage of the investment." He added that management expenses had been halved in 2021 as the number of board members dwindled.
The CPK also said the auditor's assumption that the 2027 deadline was under threat was "unwarranted". Horała acknowledged that the project is "on schedule at the moment" and that investment timelines are being updated and analyzed, reports the Polish News Agency (PAP).
In recent years, NIK has published a number of negative reports on government projects and even issued notices of alleged crimes by ministers.
However, government supporters have argued that the audit body is being used for political purposes by its leader, Marian Banaś, in response to corruption allegations he and his family are facing.
"The government wants to intimidate me, but it won't work": Interview with Poland's auditor
Other critics of the government's airport plan, including the political opposition, have long argued that it is a wasteful use of vast state resources. They note that the pandemic has dramatically reduced air travel and the hub model is becoming less relevant.
Ryanair boss Michael O'Leary also condemned CPK as a "dumb project" that "will waste billions of zlotys on a sandcastle in the middle of nowhere". However, Poland's national airline, LOT, has backed the project, with its CEO, Rafał Milczarski, saying CPK can be a "gateway to the EU to the east".
In October, the company behind CPK announced that it had started buying the first plots of land for the project and signed a €6.5 million deal for a master investment plan. Later that month, the first eviction was ordered.
In response, local residents protested plans to bulldoze a number of villages. The planned transportation hub site includes 520 properties and 3,800 residential lots, and is currently inhabited by approximately 1,000 people.
Residents protest plans to bulldoze villages to make way for Poland's new 'mega-airport'
Main image credit: CPK Press Materials
Maria Wilczek is deputy editor of Notes from Poland. She is a regular writer for The temperature, The Economist and Al Jazeera English, and also featured in Foreign Police, European policy, The viewer and Gazeta Wyborcza.